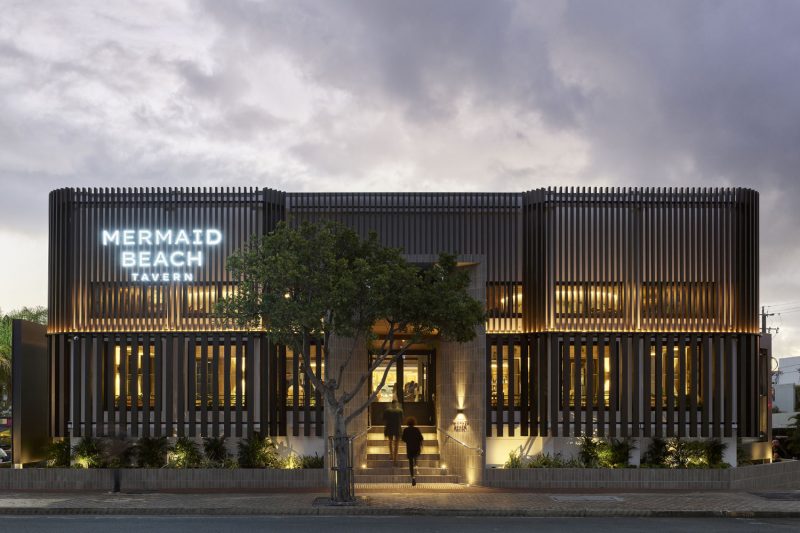 Mermaid Beach Tavern
Located along a section of the iconic Gold Coast Highway, the Mermaid Beach Tavern is a stunning reinterpretation of an existing building. The front portion of the building has been replaced with clear, simplistic forms, creating a new integration with the streetscape. The large portion of the existing which sits behind was retained and has been refurbished to allow for a more seamless connection between the old and new forms. The new exterior has been wrapped in a screen veil, providing glimpses of the treasures within while providing protection.
The internal spaces offer a direct connection to the environment, with natural sun light and natural air flow enticed to penetrate. The extensive height, use of natural light, monolithic brick finish and abundance of planting make this a unique space.
The different levels and spaces each offer a contemporary vision. The ground floor presents a large centralised bar and a feature kitchen that is defined by a wall of display, acting as a backdrop. Monolithic brick finishes within the courtyard space flow throughout the ground floor, which features earthy and natural materials. A centralised ceiling feature was introduced to draw patrons through the entirety of the space, becoming somewhat of a visual discovery.
The lower ground floor floor focuses on gaming with a high end and sophisticated experience, and the external sports bar outdoor area has been upgraded with a contemporary steel awning structure and abundance of perimeter planting.